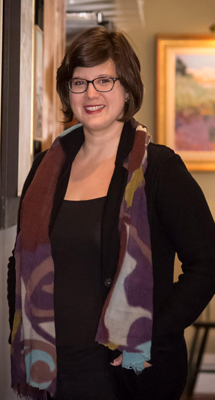 Katie is a poet, educator, and freelance writer originally from St. Louis, Missouri. She graduated in 2003 with a degree in English from Yale, where she had the opportunity to study with poet and Yale Review editor J.D. McClatchy. In 2008, Katie moved to Boston to get her M.F.A. in Creative Writing at Emerson College. Her thesis, a poetry manuscript titled The Speed of Skin, was a nominee for the Dean's Prize and earned a commendation from the Academy of American Poets.
Since 2010, Katie has taught creative writing, composition, research writing, and rhetoric at various secondary and higher education institutions including Emerson College, Roosevelt University, and St. Paul's School. She has also led poetry workshops at the Cambridge Center for Adult Education, the Newberry Library, and the Loft Literary Center. Currently she is a Visiting Assistant Professor at the University of Wisconsin in Eau Claire.
As a freelancer, Katie has contributed essays, articles, and reviews to the Star Tribune, The Verge, Time Out New York/Boston/Chicago, The Establishment, Role Reboot, and Smithsonian's The Torch. Her poetry has appeared or is forthcoming in a number of journals including Measure, Unsplendid, The Raintown Review, and Poetry Quarterly. Most recently, her poem "How to Explain Death to Your Daughter" was selected by the Saint Paul Almanac to be featured on Metro Transit buses and trains in the Minneapolis/St. Paul region in 2017. She hopes to publish her first book of poems in the near future.